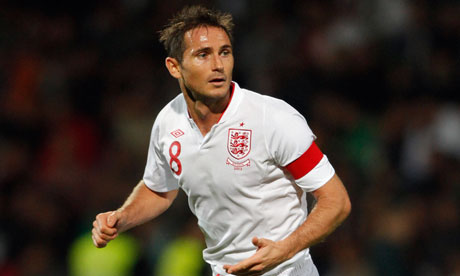 Not the long-range belters nor the perfectly-timed runs into the 18/6-yard box nor the goal records. None of these are what are I admire most about Sir Frank Lampard (as he is called by many nowadays, Chelsea fans and otherwise) – rather, It's the constant defiance of critics. Doing what they say he can't do and going beyond the limits they set.
Without trying to dish out a history lesson, this unending criticism has existed since he was playing under his uncle and dad at West Ham.
A behavior I noticed during/after the 2006 world cup and have often pondered the reasons for, it seems to edge him on and has contributed hugely to the player he is today. From West Ham fans saying he wasn't good enough and only made the team because his uncle was manager, to English fans saying he wasn't good enough (despite voting him player of the year back to back), to rival club fans claiming he will be shown up for the terrible midfielder he is with arrivals of Ballack, Deco and the likes (quality midfielders/managers have come, gone and he still remains first choice), and finally to Chelsea fans saying he's "too old and past it" as far back as 3 seasons ago (still starts and performs for both club and country today).
The inspiration for this post is Lampard earning his 99th England cap on Friday in a qualifier vs. Moldova at the ripe age of 35. With 29 goals, 2 Player of the year awards, 1 ghost world cup goal and thousands of boos/jeers it is definitely a career of ups and downs. While he is set to join fellow teammate Cole as a centurion, a moment that should erase some of his mixed-feelings about playing for his country without getting due respect for the most part – it baffles me that people could write off a footballer who broke the record for outfield appearances with 164 as being too old to play top-flight football at 32.
A player who went on to do this at 34…
… and also this.
A goal that would've had over-the-top media festivity had it been scored by a certain Manchester United 'incestor'. I've seen a lot more respect accorded recently with the man becoming Chelsea's top scorer ever in astounding fashion, a feat not many could ignore and forces you to look back on an illustrious career with slight or much more admiration.
Before you think I have a stick in my eye and still consider Frank to be peak footballer, I would like to state that I'm well aware of the fact that he's past his best – but still I know he's not past top-level football. He put in performances last season that shocked me at times (only because he is/was playing in a deeper position than used to). His strongest traits don't require so much physical effort and he still has the stamina to play forty 90-minute games in a season. To be frank (excuse my pun) he could go on till he's 40-42 if he would accept playing in the MLS or a lower English league but until then let's enjoy what a great footballer has left to offer (a lot, clearly).
In the end, all we'd have is adulation and accolade for a great career and a great gentleman. Congrats, Sir Frank.
Cheers
Toye
UPDATE: This article just published by Henry Winter of the telegraph rhymes with my thoughts http://www.telegraph.co.uk/sport/football/teams/england/10295103/Frank-Lampard-so-proud-to-play-for-England-as-he-prepares-to-reach-100-cap-milestone-in-Ukraine.html